Geothermal heating simply pumps heat from the earth into your home. A liquid is circulated through a large loop(s) in the ground called a ground loop. While that liquid is traveling through the pipe buried in the ground, it absorbs the heat from the surrounding ground. That liquid then carries the heat to the heat pump, which acts similar to a refrigerator in taking that heat through a refrigerant cycle inside the heat pump, and discharging it to your home heating distribution system (forced air or radiant floors).

Geothermal systems have been proven to deliver excellent occupant comfort in this region, while saving energy and reducing emissions. The systems take advantage of the earth's constant year-round ground temperature to provide heating, cooling and hot water in a variety of applications.
We provide highly efficient, reliable and quiet operating, year-round comfort solutions for your home or business. Our diverse product line of GeoComfort Systems offers a solution for any application. GeoComfort Systems are manufactured in the heart of America. Pride in workmanship has been deeply embedded in the culture of our company. Every department places a high value on integrity and complete customer satisfaction.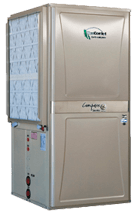 Compass XT Series
GeoComfort® Compass® Series geothermal systems are expertly designed to be technologically advanced, exceptionally efficient and uniquely crafted. The result is a heating and cooling system as beautiful as it is functional. These units offer all of the reliability and comfort you've come to expect from GeoComfort systems with the visual appeal and added benefits that are truly groundbreaking. For more information on the GeoComfort Compass Series, visit the GeoComfort website: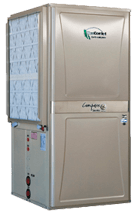 Compass Series Vertical Combination
A GeoComfort CT combination unit is one of the most versatile geothermal heat pumps available. It has the flexibility to provide forced air heating, forced air cooling and domestic hot water, plus hot water for radiant floor heating. For more information, please visit the GeoComfort website: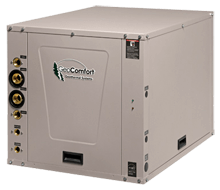 Compass Water-to-Water Series
GeoComfort hydronic (water-to-water) models offer the unique benefit of radiant floor heating, a highly efficient way to heat your home, increase your comfort and reduce energy costs. In essence, radiant floor heating eliminates the noise, dust and draft issues associated with conventional forced air systems. For more information, please visit the GeoComfort website:
All Enertech indoor and outdoor split system models have AHRI (Air-conditioning, Heating, and Refrigeration Institute) certified air handler and "A" coil (cased and uncased) matches for every model. That means better performance and guarantees the operating efficiency of the system, which is a requirement for many rebate and incentive programs.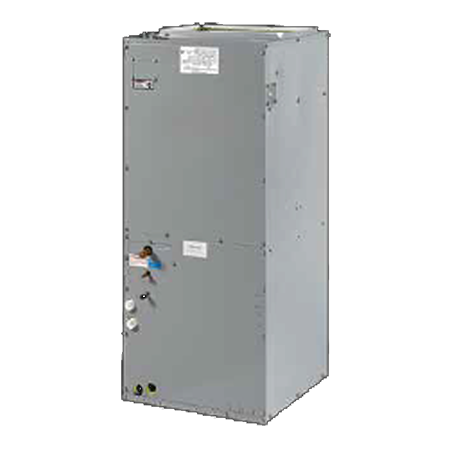 MP Series Multi-Position DX Air Handlers
2, 3, 4, 5, and 6 ton models
AHRI match for Enertech manufactured split systems
Multi-position air pattern
Ships in upflow configuration
Field convertible to downflow and horizontal configuration (downflow kit required for downflow operation)
Variable speed ECM fan motor
Factory-installed R-410A TXV
Corrosion-proof plastic drain pan with primary and secondary drain connections
Oversized copper tube/aluminum fin "A" coil for maximum efficiency
Sweat refrigerant line set connections
Narrow width (25" maximum) for small closet installations
Slide-out blower assembly
Optional downflow kit
Optional field-installed internal electric heat with circuit breakers
Optional filter rack with standard size 1" filters
Consult price book for warranty coverage details