Indoor Air Quality Systems
Air filter systems and air cleaners provide a revolution in cleaner air. At Viking Mechanical, we don't just work to make sure your home's air is warm or cool. We work to make sure it's as clean and comfortable as it can be. With our breakthrough air filtration system, providing your family with the cleanest air in the industry is just a phone call away. A blessing for asthma and allergy sufferers, it can remove up to 99.98% percent of airborne allergens from your home's air as it's heated or cooled.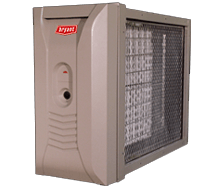 Bryant Perfect Air Purifier
Bryant's ultra-reliable Perfect Air Purifier works to capture and kill dangerous bacteria, viruses and mold, safeguarding the air quality of your entire home. Indoor air is re-purified, not just filtered, as often as 8 times each hour.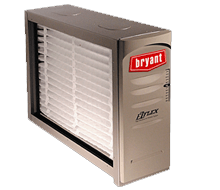 Bryant EZ Flex Cabinet Air Filter
The Preferred EZ Flex Cabinet Air Filter protects and improves heating and cooling system performance with a MERV 10 efficiency rating that keeps air flowing cleanly and efficiently. It's also designed to make replacement a snap.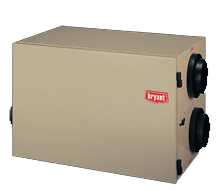 Bryant Energy Recovery Ventilator
The Preferred Energy Recovery Ventilator brings fresh, prefiltered outdoor air into your home during the cooling season without lowering air conditioner efficiency. Fewer pollutants and reduced humidity improves air quality and boosts comfort.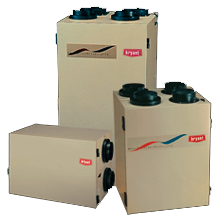 Bryant Heat Recovery Ventilator
The Preferred Energy Heating Ventilator helps your family breathe easier during the heating season by adding fresh, prefiltered outdoor air to your home. Furnace energy efficiency remains unchanged, pollutants and humidity better controlled.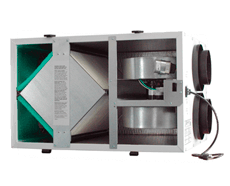 RenewAire EV 200
Typical Airflow Range: 100-200 cfm
Optimally sized for the larger residential home (up to 4000 sq. ft.)
115V / 60 Hz / Single Phase corded plug
Controls

Percentage Timer Control (PTL) – Runs unit a percentage of every hour
Percentage Timer Control with Furnace Interlock (FM) – Same as PTL but wires to furnace and activates furnace blower where furnace blower interconnect is desired (fresh air filtration, etc.)
Push Button Lighted (PBL) – Placed in bathrooms and other areas for point-of-use operation of the ERV
DH24 – Dehumidistat Control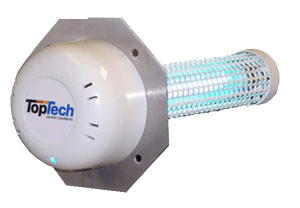 Air Knight Air Purification System
The Air Knight is designed to eliminate sick building syndrome risks by reducing odors, air pollutants, VOCs (chemical odors), smoke, mold, bacteria and viruses.
The Air Knight cells are easily mounted into air conditioning and heating systems air ducts where most sick building problems start.
When the HVAC system is in operation the Air Knight creates an Advanced Oxidation Process consisting of Hydro-peroxides, super oxide ions and hydroxide ions. All are friendly oxidizers.
Air Knight REDUCES Bacteria, Mold, Odors, Smoke, Viruses and VOCs throughout your home using your existing duct system!